August 26th is Women's Equality Day, which commemorates the 97th anniversary of the enactment of the 19th Amendment that granted women the right to vote. Our country's history is filled with women who've made big contributions to the automotive industry and served as inspirations to those who followed.
Here's a quick look at five women who currently have big roles in the automotive world and, like their predecessors, serve as mentors and role models for women around the world.
Becky Blanchard started with Chrysler 20 years ago in the company's Institute of Engineering program. After earning her BS and MS in mechanical engineering, she held a variety of positions with the company before moving to marketing, where she now serves as director of the Ram Truck Brand. Blanchard credits her parents for guiding her career path and instilling in her a strong work ethic, and she focuses on being a good role model and leading by example while mentoring young women and men.
Racer Danica Patrick has made a name for herself by successfully going where no woman had gone before: to victory circle in an IndyCar race. In a racing career that has included open-wheel racing and NASCAR, she also became the first woman to win the pole at the iconic Daytona 500.   Patrick has a simple goal of being the best racer out there, not just the best female racer.
Cara Adams is chief engineer for Bridgestone Americas Motorsports, where she heads performance tire operations for the company's Firestone brand in the Verizon IndyCar Series. Adams, the only female chief engineer in the series, was inspired to pursue an engineering career by her science teacher mother and her grandfather, a NASA engineer, whom she says helped her grow up with no preconceived notion of what a woman should or shouldn't do.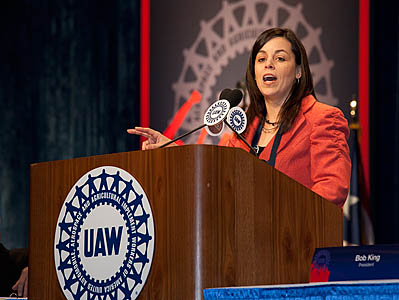 As a vice president and board member of the United Auto Workers (UAW), Cindy Estrada certainly doesn't fit the stereotypical image of a union leader. But after being elected to her second term as a UAW vice president in 2014, it's obvious she easily fills the shoes that were once exclusively worn by men. A longtime union organizer and social activist, Estrada is the first Latina elected to serve as an International UAW officer.
Lara Harrington grew up tinkering on cars alongside her Dad in the family garage. She has taken that love of working on cars and turned it into a career with Honda. She started as a structural design engineer with the company in 1991, and is now chief engineer at Honda's Research and Development Americas facility in Ohio. As her career has progressed in what many consider a male-dominated industry, so has her rank. She now serves as a mentor and role model to young female engineers, and was named to the 2015 Automotive News "Top 100 Women in the Auto Industry." 
What women do you know that have influenced the auto industry?